Digital games producer Edvin Aedma tells us how one presentation from Keith Devlin inspired him to take up teaching game development and how it affected UniTartuCS.
Sometimes before 2012, Keith Devlin visited Institute of Computer Science at University of Tartu and gave a rather fascinating lecture about the synergy between teaching mathematics and videogames. I remember noticing that the Institute director Jaak Vilo had displayed an unusual understanding for the value of games in his introductory speech. At that time, there were still many serious people not taking gaming industry seriously.
In his presentation, Keith Devlin pointed out that computer games, which develop computational skills should not differ from ordinary computer games. To make these games more attractive, Devlin pointed out that it is important for the pupils to compete with their peers and classmates. Also, the teacher could recognize reaching one level up, not to a particular level, as it is a sign that the student has acquired part of the course.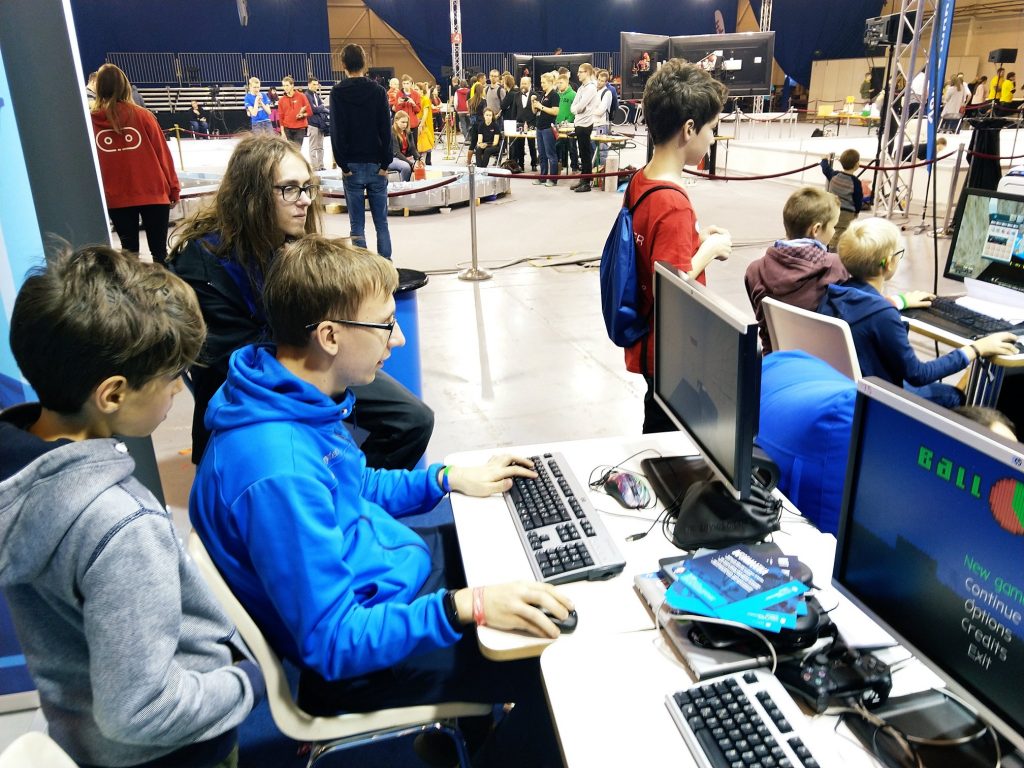 In the Robotex 2018 robotics fair our students and graduates showcased some of the games they had made during their studies.
Maths must be taught in the context of real life. If you let a task that requires computation to perform in a vital situation, such as changing goods against goods, 97 percent of people can do the task correctly. The importance of mathematics is growing and the most important innovations are related to people who speak mathematics and that is why we need more mathematicians and engineers. However, in Devlin's opinion, teaching mathematics to children should once again move forward from the understanding that this can only be done by writing formulas on the board.
About a year later I approached the Institute director myself and offered to teach commercial game design at the ICS. I did this, knowing that it would benefit everybody involved – the institute, by attracting more students to specialize in IT, our little republic (by promoting the growth of IT-sector) and the students themselves (by inviting them into the magical world were creativity, technology and capitalism mix extremely well).
Devlin gave his most recent speech in Estonia in 2018 and pointed out that still too much focus is being placed on solving mathematical equations, than can easily be done by computers. The most important thing is to be able to use mathematical tools, whether they are telephone applications or a computer programmes. We do not have to think about the mathematical mechanics of the equation, but we need to understand the problem in human terms. Google is currently the most powerful tool for solving mathematical problems.
Devlin believes that we should still stay on the same maths class and the same maths, but the central goal should be to solve the problem and understand it, not to look for the right answer to the equation.
Seven years later (2019) Tartu has a super-active game development community and many of the students who I had the privilege of teaching are now IT-company owners or high-level gamedev specialists. One of the students is now even a major shareholder at one of my gamedev companies.
And I myself am cooperating with University of Tartu linguists, making an educational game that teaches Estonian language to people of Slavic origin. The Estonian game industry is doing good.
It's great to look back and spot the small things that led to where we are now. I hope Keith Devlin is happy for giving that lecture years ago.
Who is Keith Devlin?
Dr. Keith Devlin is the Director of the Stanford Mathematics Outreach Project in the Graduate School of Education, a co-founder and Executive Director Emeritus of the university's H-STAR institute, a co-founder of the Stanford mediaX research network, and a Senior Researcher Emeritus at CSLI. He is a World Economic Forum Fellow, a Fellow of the American Association for the Advancement of Science, and a Fellow of the American Mathematical Society. His current research is focused on the use of different media to teach and communicate mathematics to diverse audiences. In this connection, he is a co-founder and President of an educational technology company, BrainQuake, that creates mathematics learning video games. He also works on the design of information systems for intelligence analysis. Other research interests include: theory of information, models of reasoning, applications of mathematical techniques in the study of communication, and mathematical cognition. He has written 33 books and over 80 published research articles. Recipient of the Pythagoras Prize, the Peano Prize, the Carl Sagan Award, and the Joint Policy Board for Mathematics Communications Award. In 2003, he was recognized by the California State Assembly for his "innovative work and longtime service in the field of mathematics and its relation to logic and linguistics." He is "the Math Guy" on National Public Radio.
More information about Keith Devlin
Keith Devlin's blog