By Ida Maria Orula
This semester's last meeting for the Industrial Masters'21 (as in "class of 2021") began with an introduction from the students from the GedMed project and continued with working on personal development sheets that this time students will take as an input for the autumn semester. Even though the COVID-19 pandemic was already subsiding, we still decided to be cautious and hold the meeting online.
Online meetings often tend to be a hassle due to several technical difficulties, but it seems like the everlasting quarantine has turned everyone into Zoom professionals, so we only encountered a few minor problems. Tip of the day: when you click on an invitation to join a Zoom breakout room, you will be kicked out of the main meeting immediately and there will be no one to explain the next task!

During the first part of the meeting, Taavi and Ida Maria gave a presentation about their internship at the GenMed project.They talked about the atmosphere at their workplace and what they had learned so far during their internship. In addition to the more general overview, they also gave a small introduction to the world of pharmacogenetics and personalized medicine. Hopefully everyone remembers what a star allele is!

After the presentation, we continued with different tasks and discussions to help us figure out what kind of skills and traits we value most in others and ourselves by using the Visual Alphabet. The first task on the way towards this goal was… drawing a palm tree! This was to show us that using just a few simple symbols, everyone can draw. Then we moved on to the next task which was drawing the perfect co-worker. Firstly, we all drew a picture by ourselves and then separated into groups of three to combine those initial images. Then each group presented their work with the help of the Jamboard page. Below, you can see some examples of what we all came up with.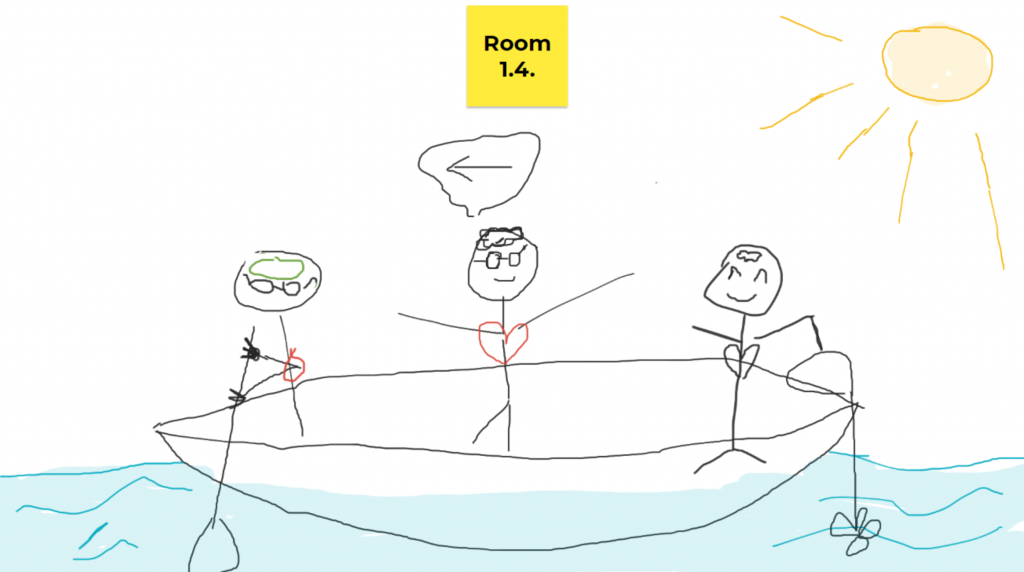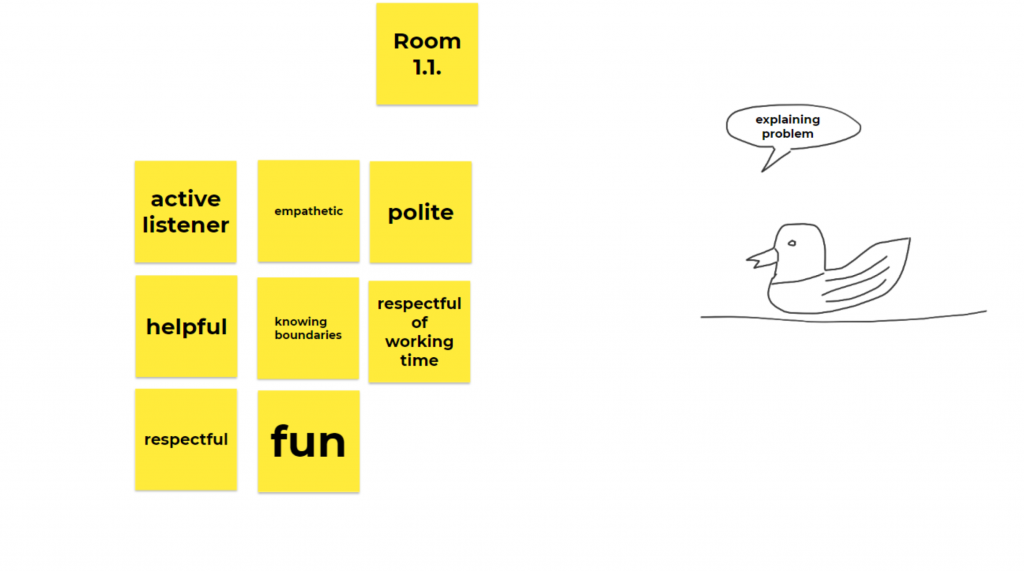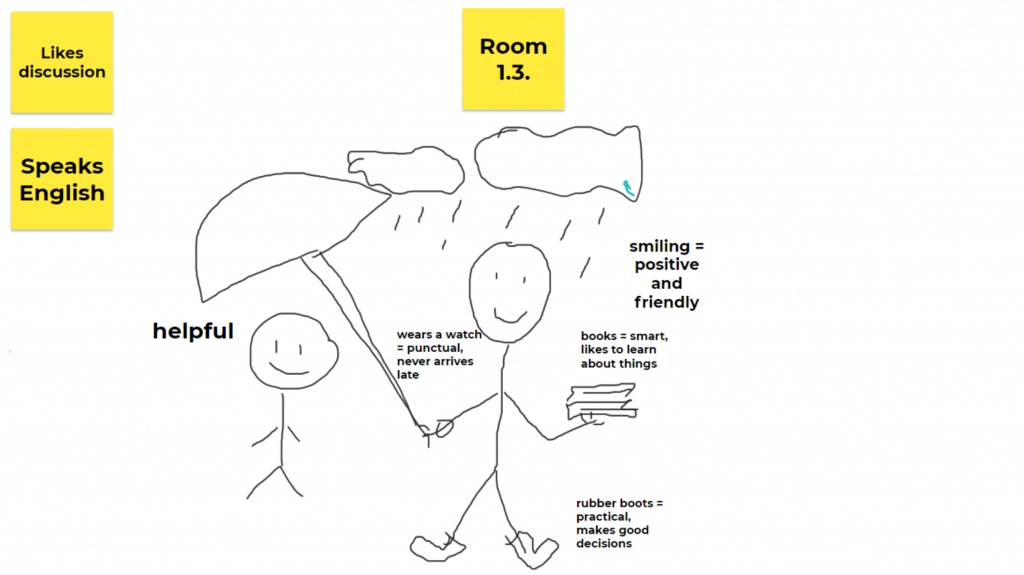 The main conclusion that we drew from this task was that even though intelligence and knowledge are important, it's still the soft skills that determine, whether we see the person as a good or a bad co-worker. Some of the keywords that were mentioned most often were friendly, respectful, helpful and willing to collaborate. This is probably an important thing to keep in mind in any situation.

After a short discussion about the perfect co-worker, we each analysed what we had written about our own soft skills strengths and weaknesses during our meeting back in February. It was good to take the time to think about what we had already accomplished and what still needs to be improved. We were free to either update our goals for improvement or leave them as they were in February.

To be able to analyse ourselves and our shortcomings (or at least what we think to be our shortcomings) better, we were introduced to the concept of the 5 Whys technique. This was done, because every student will face a development interview in the fall. The 5 Whys technique consists of choosing something that you feel you do not excel at and asking yourself "Why?" five times. An example of this can be seen in the image below. This approach can help you get to the bottom of the problem and therefore, give you an opportunity to "treat the cause, rather than the symptoms". Sometimes you might even realize that what you thought of as a shortcoming, is actually just something that is not a priority for you.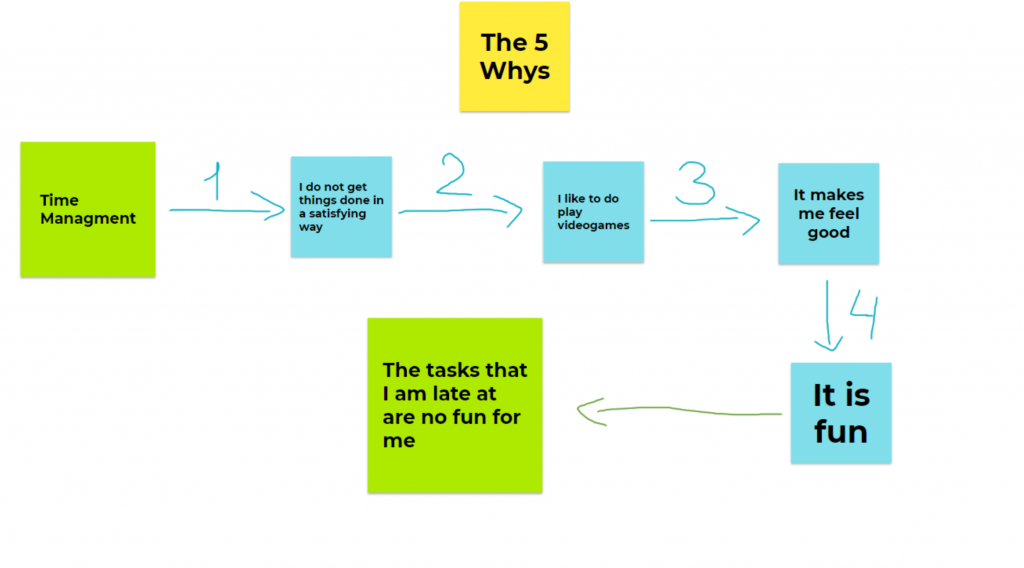 To put this new knowledge to practice and analyse ourselves even better, we were divided into pairs, where we both discussed our strengths and weaknesses and tried to apply the 5 Whys technique when possible. It was a good insight to how different people can perceive similar problems or situations in many different ways. And of course, it is always reassuring to hear that you are not the only one struggling with procrastination.

At the end of the meeting, there was a brief discussion about when our next meeting would be held and whether the COVID-19 would still have an impact on the format of this meeting. There were some concerns expressed about the borders being closed due to the pandemic since many of us are international students and would like to spend their summer holiday in their home countries. All in all, the meeting ended on a positive note with everyone looking forward to seeing each other again during our next meeting in August at STACC. The meeting will be hosted by the Industrial Master'21 student Karmen Kink.