On February 27, the thirds intake second gathering took place in the Delta Centre, where they met the third intake to discuss their motivations for joining the programme and to put together a plan for how every student can develop the skills they want.
Since we keep talking about different intakes and it might be a little confusing to follow, then it seems appropriate to explain this detail a little bit. The programme starts each year in February and lasts for 17 months in a row. This means we have two intakes at the same time for a short period of 5 months from Feb-June, when it is the second semester for the first year masters and fourth semester for the second year masters.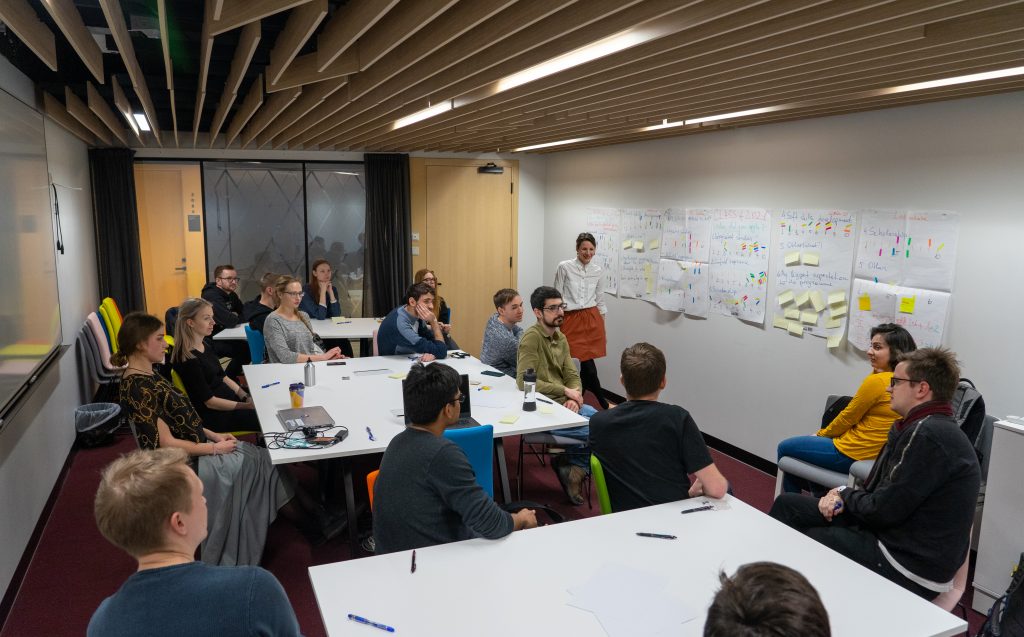 The meet-up had several missions:
To introduce two intakes to each other – II intake will graduate this June and we used this opportunity for both intakes to share their expectations, experiences and thoughts about the programme.
All students mapped their strengths as well as the skills that they want to develop. As a homework assignment, each student had to write down three goals that they want to reach until the end of the programme and put together a plan for how they want to develop skills they want. We are revisiting those papers approximately every 6 months to look at the development and make modifications. Here's a summary of the students' motivation, based on surveys in 2019 and 2020: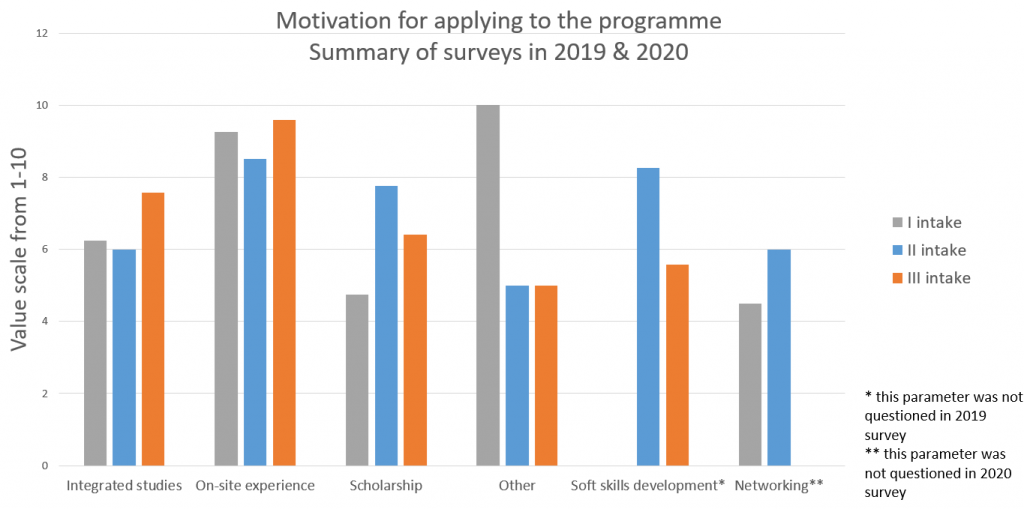 We looked into the motivation of all the students – why did they join the programme. With the graduating intake, we had a chance to look back on what they thought back in 2019 and to our surprise students still valued the same things as highly as they did a year ago. Based on that mapping we created a profile of the 2019 intake Industrial Master student: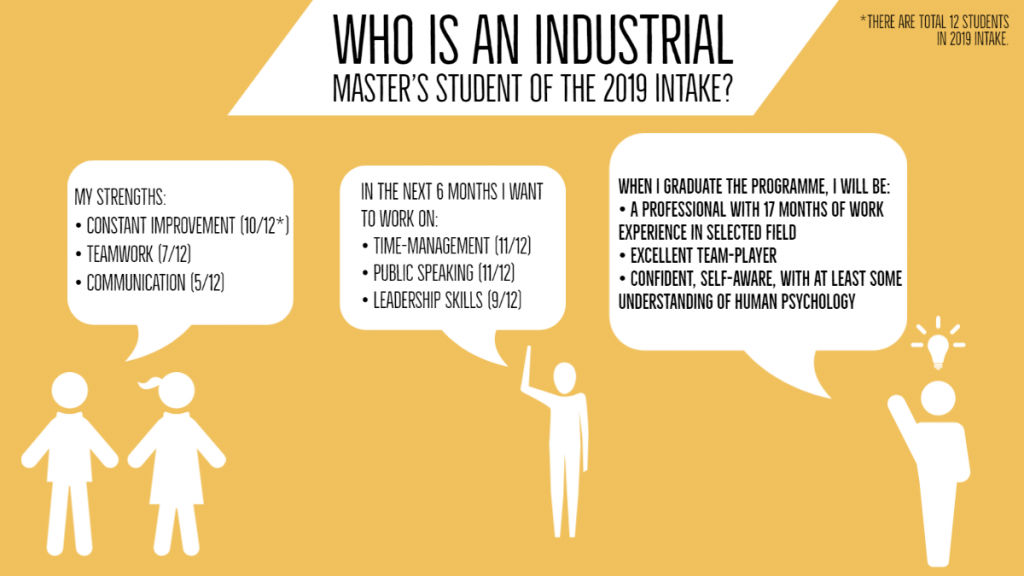 Each year we are using this time to give an update to both intakes on how the programme has improved. We care a lot about the feedback that each intake and company supervisors give us and we have been developing the programme in accordance with it.

The biggest change that was carried out for the new intake was with the scholarship – its size and general conditions. We've put together a table to illustrate the changes:


Specification

II intake (2019)

III intake (2020)

Scholarship size

500€/month throughout the whole programme

Feb 2020-Aug 2020: 660€/month
Sept 2020-Jan 2021: 750€/month
Feb 2021-June 2021: 900€/month

Option to apply to other scholarships

Yes

No*

*except for Ülo Kaasiku, Reet & Teet Villigu and Cybernetica scholarships.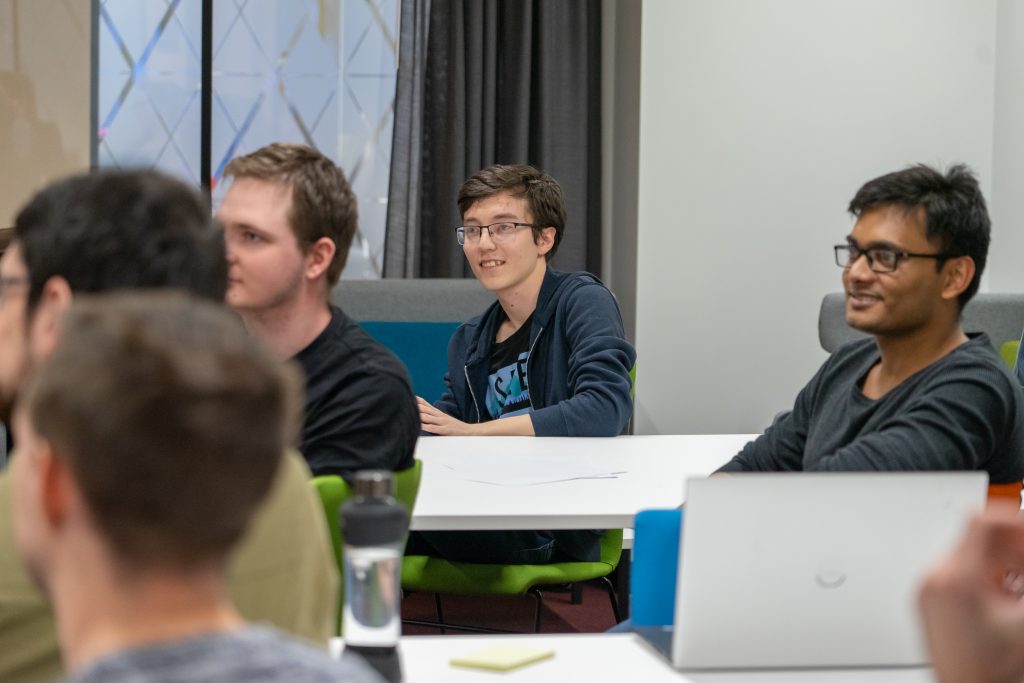 Those changes were made to keep the students' focus on their good performance at a partner company and the university as well as their motivation high throughout the whole programme and not to worry about their income dropping (in case some additional scholarships dropped).

We planned the meetup to be two hours long and we managed to end on it very well right on time, because we had to move to the next room as there was Delta Sandbox opening and later the sauna afterparty. You can also check out the opening video here.

Our next gathering will be an online meeting due to the coronavirus situation. We will "visit" Pipedrive on 9th of April and it will be hosted by two Industrial Master's students, Miras and Brandon, who will write the next post. So stay tuned!