Ilmar Uduste studies Data Science at the Institute of Computer Science. This specialisation makes IT solutions smart and creates value in every field. To take up studies in Data Science, you need to have a bachelor's degree and completed at least 60 ECTS of courses of IT, mathematics or statistics.
I did my bachelor's in Materials Science at the University of Tartu. It's a rather interdisciplinary curriculum, combining physics, chemistry and engineering. During my last year, I found that the Institute of Computer Science was opening a curriculum of Data Science. Reading more about the curriculum made me realise that this is also a specialisation that combines many fields (IT, statistics, domain knowledge, etc.), and I knew from my bachelor's studies that this kind of interdisciplinarity would suit me. The saying "jack of all trades, but a master of none" describes someone who can deal with anything if needed, and I like to think of myself as such.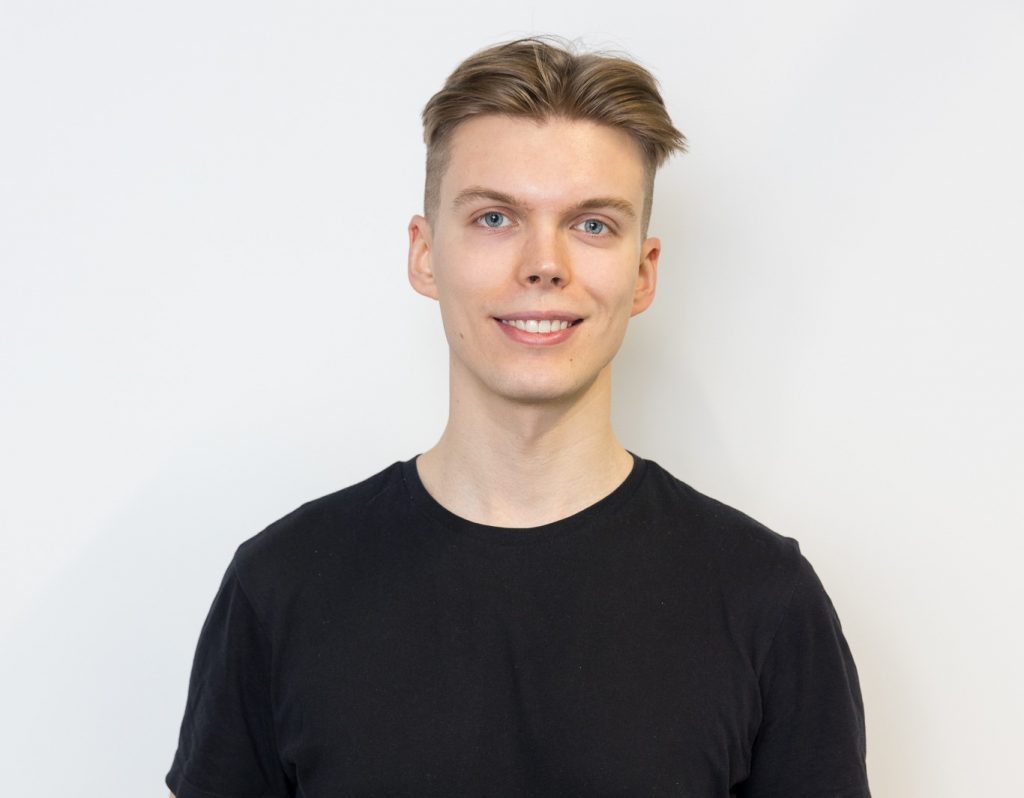 Many years ago, a relative showed me a video about how an artificial intelligence learned to play a game using the carrot-and-stick approach. I remember being quite amazed by the existence of such a technology at the time and since then the moment has been forever etched in my memory. By now, I have learned that this method is called reinforcement learning and is not overly effective, but still, the video I saw as a child sparked my interest in AI in general and, as we can see, has inspired me to end up studying data science.
For me, it wasn't very difficult to move from physical sciences to data science. During my previous studies, I had taken some programming and computer engineering courses, and I had grown up with computers. Some courses might have been a bit more complicated at first, but in the end, everything is doable. IT is one of these disciplines you can successfully learn on your own, as long as you are willing to put some time and effort into it. Another thing that certainly helped me was that before coming to the Institute of Computer Science, I had been working at Positium, a company that works with mobile positioning data, for almost a year. In my work as a data analyst/scientist, I learned many things that are generally not taught at school. Also vice versa: at school, I have gained experience with things I have not yet dealt with at work, such as machine learning and neural networks. Like that, I find work and school have filled each other's gaps nicely.
I was most surprised by the smooth and pleasant organisation of studies at the Institute of Computer Science. I suppose the pandemic has also had an impact on that, as the Data Science curriculum was opened just recently in autumn 2020, but I have no doubt that the principles of recording and uploading lectures, enabling distance learning, the importance of projects and cooperation, etc. had been in place long before that. We did not get to do much face-to-face learning, but from the very beginning, the institute was ready to organise studies online, and this has been done very successfully to this day.
The programme director and teaching staff have been obliging, and I really liked that a Slack channel was created for the entire Data Science group, where we could communicate with our course mates, ask for help, etc. A group chat on Messenger would not have been half as efficient. I would have liked to get to know my course mates a bit more at various events, but the pandemic made its corrections there.
The Data Science curriculum is open for the graduates of all bachelor's curricula, so the group ends up being a truly diverse one. I have never cared much for curricula where all students are alike: of the same sex, from a similar background and with similar expectations. Our Data Science group has a relatively equal number of men and women, and people come from a great variety of backgrounds. Some have come to study data science straight after graduating from bachelor's in IT, some have graduated from, let's say, humanities, already some time ago, then worked in IT and decided to complement their knowledge in master's. It's really cool to be a part of such a diverse group, and I believe this diversity makes us even stronger as data scientists. Let's just hope that this cool bunch will also graduate in the spring!